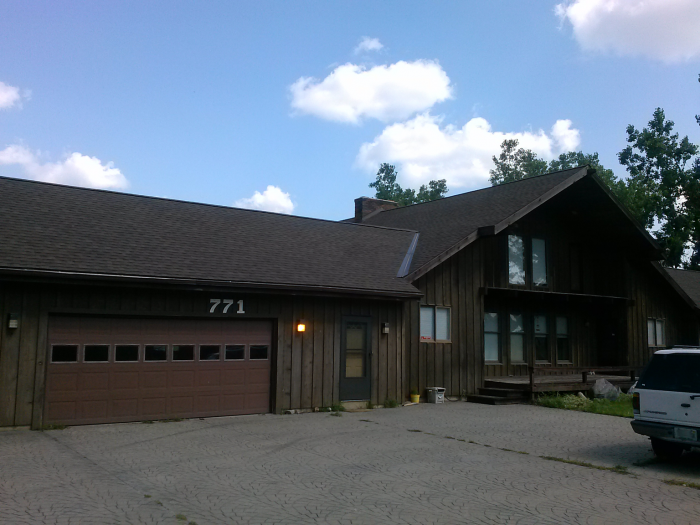 So, just a quick update..  Today, the house finally got its new roof.  After nearly a week (with a few rain days and a skipped weekend) the contractors finally finished putting the new roof on.  For those of you who know our journey with this place, you know this was the last great repair we have on our list.  The rest is all little stuff.. thankfully.
Although most of you are not from the central Michigan area, I do want to give a little review and say that Hankins Homescapes did a fantastic job.  The owner, Roger Hankins, spent extra time to make sure that we got exactly what we wanted – a roof that doesn't leak.  But seriously, he helped create a plan to deal with some severe ventilation issues (there wasn't any!) and to clean up some poor decisions by the previous owner.  He was more than reasonable with the price, too.  Could we have gotten a roof put on a little cheaper.. sure.  Would it be as nice, unlikely.   So if you're in the area and need anything his company does, I'd recommend giving him a call.  I linked his website above, and their number is: (517) 482-1020.
See, Roger… all tens of the people who read my ramblings now know to call you (maybe it'll get Google indexed).  How about a discount on the next job?
… So.. who wants to buy a beautiful lake (stocked!) home in Shiawassee County, Michigan.  It has a new roof.. new wood burning furnace.. new electric.. new well.. new septic.. fresh neutral paint.. finished walk out basement.. over 4000 climate controlled feet of living space.. great neighbours.. over 3 acres.. mature berry plants.. immature fruit trees….. and terrible cell phone service.
But, hey, you can get DSL.  All 6 mb/s of it.  You can party like it's 2002.  Or, just fish… whatever.
There's a picture of the house with the new roof.  Enjoy.